Tampa's First
authentic Brazilian
Waxing salon.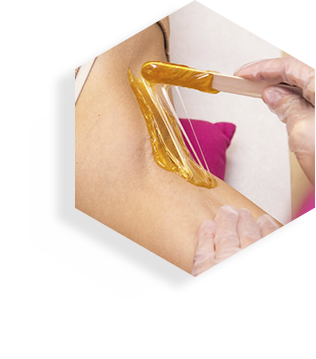 BRAZILIAN WAXING
TECHNIQUE
Our licensed and certified estheticians are trained to utilize a specific Brazilian technique to make treatments fast, thorough and nearly pain-free to ensure you get the best results.
Due to our efficiency, our waxing technique opens pores more easily so hair can be removed from the root. We guarantee our technique minimizes redness and bumps after the wax.
COME DISCOVER WHY OUR BRAZILIAN WAXING TECHNIQUE IS SO WEll-KNOWN!
Our exclusive hard wax is specifically designed to be light on sensitive skin, while exfoliating and hydrating the skin, leaving the waxed area with a clean and hairless look ensuring longer lasting results. The exclusive formula features natural ingredients such as bees wax, honey, and chamomile that calm and sooth your skin during and after waxing.
We set the highest professional standards for waxing services, using only THE BEST hard wax for you and your skin
Relax and don't worry about anything, our staff is very
experienced in dealing with your anxiety. Your waxer will talk you
through the service, making sure you are comfortable and reassured
throughout the process. We care about you!
Beekini Wax specializes in efficient, high-quality and affordable Waxing & laser hair removal services in the tampa bay area.
Our licensed and experienced estheticians utilize specific techniques to make treatments fast, thorough and nearly pain-free. Our products and processes are specifically designed for sensitive skin, providing efficient silky-smooth results giving our clients the ultimate hair removal experience.
Our facilities are spotless, and our techniques are highly hygienic, so you can rest assured that our hair removal services are sanitary. We use medical grade disposable sheets and gloves, and change them for every client. We sanitize the bed and all instruments between each new client treatment.
A permanent solution to unwanted hair! Laser is one of the most effective ways to significantly reduce hair growth.
At Beekini Wax we have the most advances laser device in the industry: SOPRANO ICE, that ensures safe, comfortable and custom service to you!
We're tampa's hair removal specialists!
I am originally from Brazil, where beauty has been refined into an art form. A country, where Brazilian women have been sharing and passing down their secrets for generations. I invite you to come experience the Brazilian approach to waxing.
I am a specialist and guarantee that my technique is an all-natural, less painful, healthier way to wax.
Very professional, no pain, GREAT WAX, which is the key to immediate and lasting results. Had the Brazilian and Butt Strip, in and out in 15 minutes.
Denia Campbell
I got a Brazilian Wax for the 1st time by Rosie. It went GREAT! I was soooo scared that it would be painful. Rosie did an amazing job making me feel comfortable and it was not painful. You experience a little discomfort but it isn't bad at all. I highly recommend them. The price is very reasonable and most importantly the place is clean. Def. coming back!!!
Candice Cochran (Candice J Limitless)
I just had my first ever Brazilian with rose and I am so happy I did it here! The staff is so friendly and rose made the process quick and painless! I'll see you guys in 30 days 🙂
Almoudeen Family
This. Place. Is. Amazing! I've been going here for about a year now, and throughout that time, the salon has only gotten better! The owner Karla is the best! She makes the waxing process quick, and damn near painless! I live in Riverview, but come all the way here for my wax because I know that the result is always going to be great! It also helps that the prices are so reasonable. 😊 Hands down best place to get a wax in Tampa! 🙌🏾🙌🏾UPDATE (9 Dec 18): This place is STILL worth the drive! Karla has hired an amazing group of professionals who she taught her technique to, and all of them are great. My new fave girl at the salon is SOL! Ask for her, she's great, sweet, and extremely thorough!
Tiona Jones
Had a great first waxing experience here. I've only ever had my eyebrows done and was a little nervous to get waxed. Ava was amazing, professional and friendly. Would highly recommend her for anyone. She walked me through it all, answered my questions and put me at ease. The establishment was clean and well organized. Will be using them again.
Azaria Spano
Been here a few times and it honestly exceeded my expectations! I had my 1st ever full Brazilian wax here, very clean place, good open communication and honestly, the pain was not that bad. It was a lot less than I was expecting and Kendall made the whole process easy breezy. I'll definitely keep coming back for future waxes!
Genesis Mendez
It was my first time ever getting a Brazilian. I have to say it was a great experience. Minimum discomfort and my tech made me very comfortable. Made my follow up before I left!
Lisa Johnson
1548 S Dale Mabry Hwy
Tampa, FL 33629
813.254.4400
20435 Bruce B Downs Blvd.
Tampa, FL 33647
813.536.1011